(Last updated on January 9th, 2023)
In this post, we will compare QuickBooks Pro vs. Premier vs. Enterprise.
If you have chosen QuickBooks Desktop, you've chosen one of the best small business accountancy applications in the market. But you have a further choice to make, since Desktop comes in three different packages at different pricing levels. Which one is the best for you?
The core of the accounting system is exactly the same, whichever level you choose. It's built on full double-entry accounting and should satisfy the most demanding auditor. The basic Pro package delivers you enough functionality to manage any small business's accounts. Each of the next two pricing structures builds on this, adding further features and the ability to add a greater number of users.
Industry-specific versions – a great feature
You'll get more industry-specific features as you go up the levels. These are particularly important if your business is in contracting, retail, or wholesale trade. (There's a fourth version, QuickBooks Accountant, but unless you run an accounting or book-keeping firm it won't be relevant to you.) In our view they're one of the great attractions of QuickBooks and well worth the extra price.
The two lowest levels of the pricing structure are the biggest sellers, and they are great for single person businesses and start-ups. But if you're moving towards becoming a significant sized business with $1m or so sales and 50+ employees, Enterprise is very well worth considering.
QuickBooks Enterprise is more than just accounting
Enterprise is particularly hot on inventory management, fixed asset management and costing. It practically delivers an ERP in itself. Businesses creating complex products with a large number of different inputs, multi-site businesses, and those who need to manage picking lists and part-filled orders, will find Enterprise's advanced features well worth the cost. However, it costs over twice the price of Premier, so be sure the features are worth your while.
Let's take a look at each package in turn and see what the major differences between them are.
QuickBooks Pro
Pro is great if you want an accounting package that will deliver the basics, with up to three users. It gives you the following functionality:
full double-entry accounting
bank reconciliation
customizable chart of accounts
custom invoicing, and automatic payment reminders for your customers: it also allows you to send multiple invoices in a single email
credit card processing and reconciliation with your accounts
sales tax management
contact management, including maps and directions to customer premises, default payment terms, and sales tax rates
automatically flags past-due invoices
tracking of your income and expenses
managing purchase orders and bill payment; it automatically helps you take advantage of discounts for early payment
check printing
time tracking
ability to issue estimates
lead management (an unusual function for account software and a definite plus for this program)
inventory management, including low stock level warnings
packing slips, sales receipts
to-do lists for customers
budgeting
tax support
contractor management and payment, including issuance of 1099 forms
multi-currency support (though oddly, some features, like Bill Tracker, don't work with the multi-currency option)
100 standard reports
200 integrations
letter templates that integrate with Microsoft Word
However, while Pro is a solid choice for the smaller business, it has its limitations. While it has inventory support built in – something many SME accounting packages lack, particularly at lower price points – the feature set is rather limited. If you are running basic e-commerce, it will work fine.
But if you need to track inventory at multiple locations, or have complex work-in-progress and need to build up your cost base for products that use a complex mix of components, or if you break bulk, Pro won't provide everything you need. For instance, it doesn't let you build up a bill of materials. It also doesn't let you issue sales orders.
Time tracking, too, is rather limited in functionality. It doesn't go straight through to billing, which is annoying if you're in a billable-hours professional services business.
None the less, many small businesses will find Pro gives them everything they need for their core accounting requirements. It allows up to three individual users, and while there are some data limitations (14,500 items adding together customers, vendors, and employees) these won't bother most small businesses.
QuickBooks Premier vs QuickBooks Pro
The Premier version of QuickBooks Desktop is where the industry specific versions kick in. These give you a customized chart of accounts, with categories that reflect the type of business, and specialized reports that show the figures and ratios most useful in your industry.
Premier also adds better inventory and sales order management. Forecasting and budgeting includes forecast sales by customer or product type, so that you can budget at a high level of granularity for your different product areas.
Batch invoicing is supported, and sales orders let you hold an order till you're ready to invoice against it. Backorders can help make sure you never lose a customer order again just because you don't have an item in stock.
You can also bill and track clients by percentage of completion, for projects and contracting jobs. Tracking by percentage complete is particularly useful if, for instance, you want to make sure all the nearly-completed projects are finished before the holiday season starts, or you want to know how much new business you need to bring in to replace completed jobs.
Inventory management includes sales orders as well as the ability to offer partial invoices where you're shipping part of a larger order and will fulfill the rest of that order when stock becomes available. You can track backordered items easily – you can't do that in Pro. You can also track the availability of stock and set re-order levels, and there's a build assembly function for businesses that manufacturer or assemble to order.
There are even three shipping integrations, accessible through the invoicing function:
You also get the ability to use different units of measure. So for instance if you buy in tons and sell in ounces, that's not a problem, or if you buy in packs of ten but sell in single units.
150 standard reports
Premier gives you more than 150 standard reports, against 100 in Pro, and you get report templates which let you export them easily. You can run reports by location or department, so if you've grown to a multi-branch operation, Premier is going to deliver you real value. The Business Planner features goes further than the budgeting capabilities of QuickBooks Pro, and can help you identify longer term trends and opportunities as well as budgeting on a monthly or yearly level. If you need to create a business plan for your bank or for a VC investor, this app can really help, importing your data automatically and turning out a professional-looking product.
Premier also offers previous reconciliation reporting. This may not mean a lot to you, but it's something a lot of accountants like to look at as a check. Many accountants prefer their clients to use Premier for that reason. You can also reverse journal entries – again, something that might not mean much to you but is useful if your accountant needs to correct a mistake.
And there's more flexibility on pricing. Pro works on fixed percentages when you want to change a price – Premier lets you decide all your prices will end in 99 cents, or ensure that your big seller product comes in just below a competitor's price or just below $100.
Let's take a closer look at the industry specific features that Premier offers.
The contractor edition lets you run job estimates, track revenue and expenses by job, and can compare actual to estimated figures for any given job. You'll be able to run job profitability analysis reports, too. You can use your estimate to generate purchase orders for your materials, and to invoice your customer once the job is completed. You can manage change orders within the system, and set billing rates for each employee flexibly. If you regularly have to price up job, there's a whole lot of automation built into Pro that will save you huge amounts of staff time.
The manufacturing and wholesale edition gives you a powerful inventory tracking feature set and lets you track profitability by product.
There's a non-profit version, which has various useful features including creation of Form 990 and year-end donation statements.
The professional services edition delivers an advanced time tracking feature. For instance, it supports different billing rates where you have different employees at varying pay grades working on a project.
The retail version delivers with automatic sales tax and tracking, as well as good inventory management functions.
The limitations on data (14,500 items) are the same as in Pro, but the three-user limit has expanded to five. Some users have complained that Premier doesn't really address permissions, and it's too easy to correct data that has already been entered – at five users, you're getting into the territory where you want a bit more of an audit trail.
Another limitation of the Premier package is that it can't handle parent and subsidiary company accounting or consolidation, so if you have a complex holding structure, you'll need to move to Enterprise.
QuickBooks Enterprise vs QuickBooks Premier
Enterprise is the top pricing level of QuickBooks Desktop and supports up to thirty users. It also replaces the 14,500 line data limitation of the other two versions with a 1m limit – so that's a mix of up to 1 million customers, vendors and employees altogether. Typically, businesses start thinking about moving to Enterprise once they get close to the $1m sales milestone.
Enterprise moves QuickBooks on from being an accounting application to providing pretty nearly a total ERP solution. If you subscribe to Enterprise, it will help run business processes as well as just providing an accounting record. That's already partly the case with Premier, but Enterprise really moves up to another level.
The downside is that the learning curve for Enterprise is really quite steep. And the interface is not particularly friendly – especially in the fixed asset manager, which looks as if it was designed in the era of Windows 3.1 and hasn't been updated since then. But overlook the aesthetics, and you can consider the learning curve as an investment of time and effort that will be well repaid if you use the application's features to make your business run more smoothly.
Enterprise upgrades the Desktop application to provide
advanced reporting and customized financial statements
over 200 reports
fixed asset management
advanced inventory processing and fulfillment tools
barcode scanning
unlimited discount rules
unlimited tech support
flexible, customizable user permissions and restrictions
multiple locations
landed cost (including freight, customs duties and insurance)
enhanced custom fields
GAAP compliant financial reports.
Enhanced custom fields give you immense flexibility – whatever you want to build into your accounting system, you can. User permissions also give you flexibility so that, for instance, you can give read-only permission or allow some employees to input only costs, not sales orders (or vice versa).
The inventory process will help you pick – pack – ship. That's very useful if you have multiple locations and may have to make up orders from more than one location. The advanced inventory portal also helps prevent stock-outs.
Sales order fulfillment lets you see all your open customer orders and sort them by date, customer, or dollar amount. From there, you can print out pick lists, as well as generating invoices and packing slips. You can also track backordered items so you know exactly what still has to be shipped.
Cost accounting is very robust. For manufacturing businesses, it gives the ability to analyze product costs right down to the level of individual screws or bolts. You can then fine-tune your product costing to meet a desired wholesale or retail pricing level.
For fixed-asset-heavy businesses, the fixed asset management capabilities of Enterprise are well worth having. You can set your own policies for capitalization of assets, useful life, and the method of depreciation used. It will then automatically depreciate assets, and adjust your tax statements where your treatment is different from that mandated for tax purposes.
It's worth noting that Enterprise has its own dedicated customer support team, and they are impressive – head and shoulders above what's provided for other versions of QuickBooks software. Unlike other QuickBooks software, Enterprise actually receives rave reviews for its customer service representatives (though we should note that you may have to hang on the phone a while before you get through).
Enterprise has its own Resource Center, too. That's part of what you're paying for with your subscription.
QuickBooks Pro vs Premier vs Enterprise: Pricing
For the lower two levels, QuickBooks has a mixed model of pricing; you can either make a one-off purchase, or pay an annual subscription (which is the same as the purchase price). With the annual subscription (Pro Plus or Premier Plus) you get free updates, unlimited customer support, and data backups. You'll also get a 50% discount on your first year's subscription.
Each additional user requires an additional purchase or subscription. Don't forget to allow for that if you want multiple users. Occasionally, Intuit and its resellers offer discounts for multiple user purchases – it is worth keeping an eye open to see if you can take advantage of a special offer.
Premier costs not quite twice as much as Pro. If you're in one of the industry verticals that have a special edition available, in our view the additional functionality is well worth paying for.
Enterprise is only available on a subscription basis.


Pro
Premier
Enterprise
Pricing – purchase
$299.95
$499.95
–


Pro Plus
Premier Plus


First year
$149.95
$249.95

$1091

.70
Subsequent years
$299.95
$499.95
$1213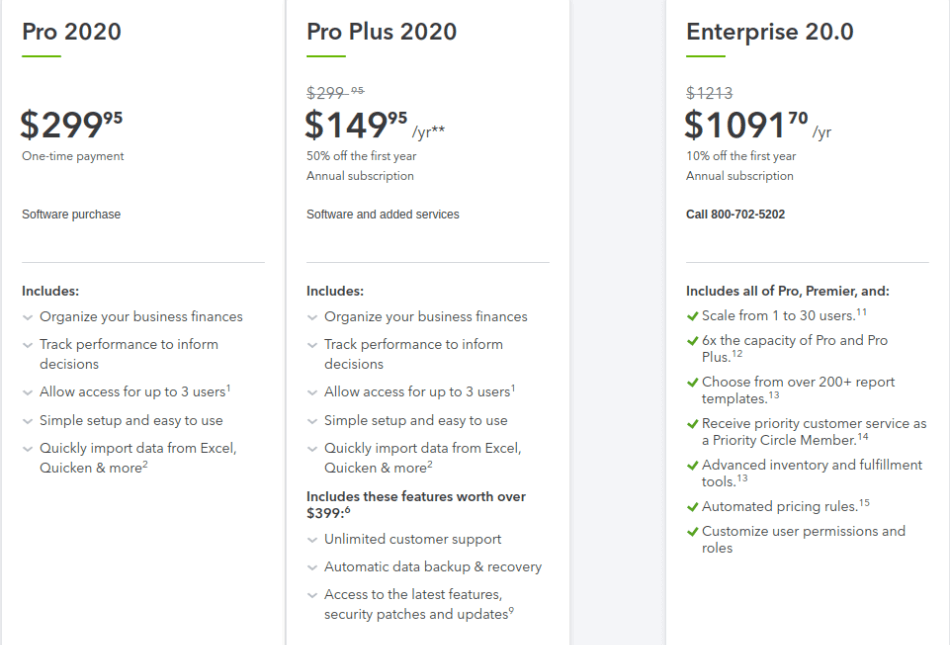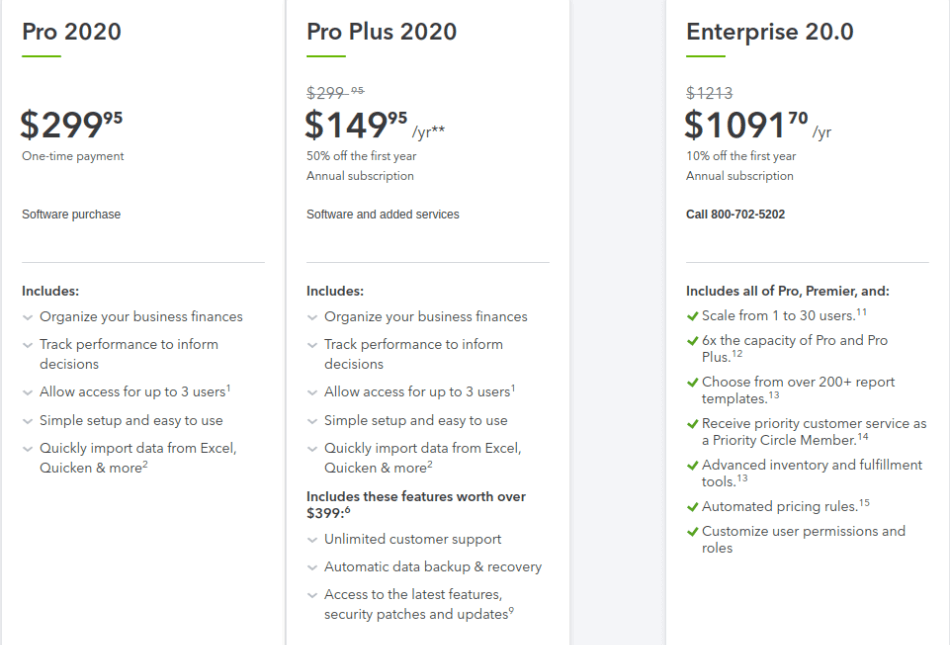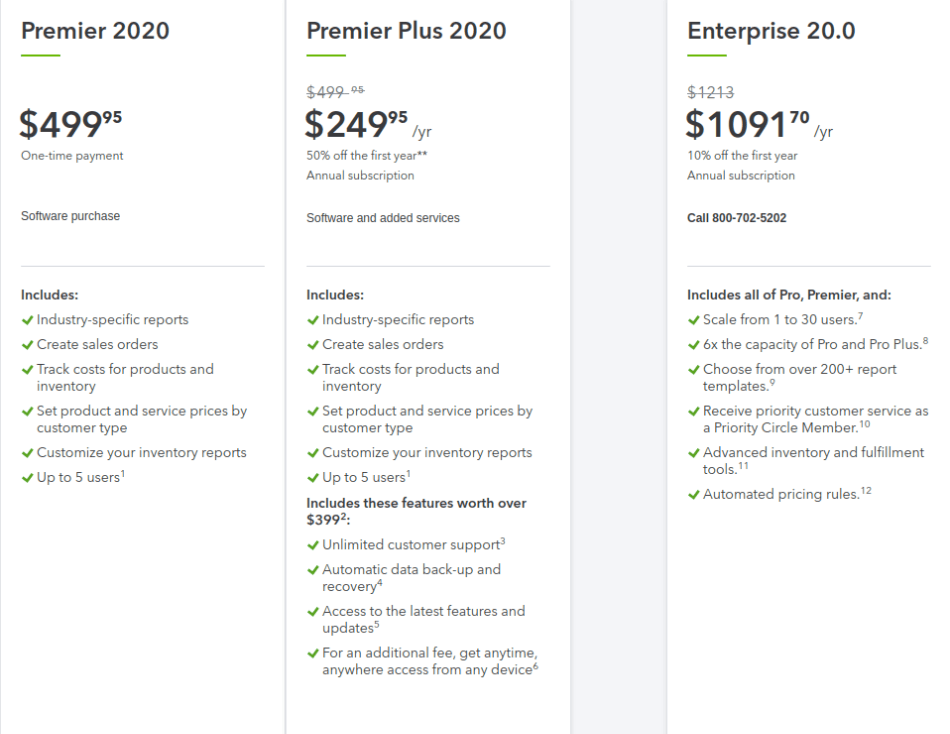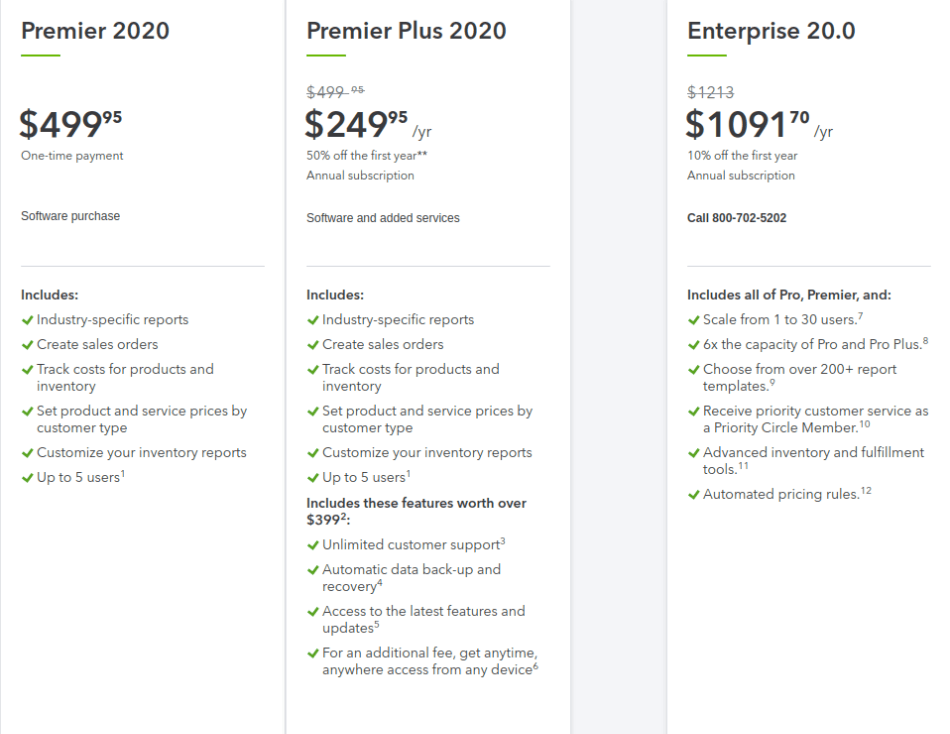 The mixed pricing model for Pro and Premier does allow the skinflint or impecunious business to economize. If you are prepared to do without support and upgrades, you can buy this year's edition and it will last you for three years. (After that, QuickBooks will no longer support it, and you'll lose the ability to link to payroll, and to your bank accounts, or to take credit card payments.)
Effectively, you'll be paying $100 a year for Pro and $166 a year for Premier. That's a pretty good bargain.
Enterprise costs more than twice the Pro subscription. For many mid-sized businesses it may not be worthwhile. However, for growing manufacturing, wholesale or retail businesses, the inventory management capability and advanced product costing are well worth paying for and could deliver business benefits that far exceed the additional price of the software.
You should be aware that additional costs may apply. These include
Payroll functionality – you'll need to pay a monthly subscription for either QuickBooks Payroll or another payroll integration
hosting, if you require remote access
live feeds – some banks charge for the service
automatic back-ups (if you're not on a Plus subscription).
Summary
You'll want to put some time and effort into finalizing your choice. Sometimes just one additional feature can make all the difference.
But generally, our advice would be that each package is ideal for certain businesses.
Pro is great for single-employee businesses or small businesses with simple business models, particularly services businesses that don't have much in the way of expenses.
Premier's biggest attraction is its industry-specific versions but it will also suit businesses with complex cost inputs or the need for more advanced sales and order management. If you need to generate a bill of materials or create purchase orders, you'll want Premier.
Enterprise suits businesses with multiple locations, complex manufacturing or inventory management processes, and mid-sized businesses with large revenues and a large customer base.
If you are a manufacturer or wholesaler, or work in contracting or construction, it's definitely worth going straight for the Premier package even if your business is still relatively small. Premier will support your inventory management and job costings far better than QuickBooks Pro, and deliver you real business benefits.
FAQs
Can I upgrade from one price package to another?
Yes, though you'll likely pay the same fee as a new user – there's not a discounted rate for those moving up from one package to another. If your business grows in size or complexity past the point at which Pro supports it adequately you can easily move to Premier. You'll simply need to install the new application and copy your data over.
Typically, you might want to upgrade if you now hold many more inventory items or have more inventory locations. You might want to upgrade if you want more users to have access to the application. Or you might be bumping up against data limits if you have a large number of customers.
If you're on a subscription, wait till close to the end of your subscription period to upgrade so you don't lose months you've already paid for. If you bought your software, it's worth waiting till the fourth quarter, when annual versions usually come out, so you get a full three years of value out of your purchase.
I have QuickBooks Desktop Pro 2020, and now it's 2023. Do I need to buy the new version?
QuickBooks publishes a new version of Desktop each year, including various updates and improvements. However, it continues to support each version for three years.
When your application is no longer supported, add-ons like Payroll and credit card processing will stop working. So though basic accounting will still operate, you're losing a lot of crucial functionality.
Your Desktop 2020 will continue to be supported till 2023, though you won't get updates. You only need to update earlier if you see an important upgrade that delivers something your business would find particularly useful, such as the expanded vendor management in Enterprise 2023.
Do I have to buy QuickBooks Desktop directly from Intuit/QuickBooks?
No. You can also buy QuickBooks Desktop from resellers like Fourlane or CPA Warehouse. You may be lucky enough to find them having a sale, in which case you could get your software at a significant discount.