(Last updated on January 9th, 2023)
QuickBooks Payroll or RUN Powered by ADP? Which payroll software is better in 2023?
Read this ultimate QuickBooks vs. RUN Powered by ADP comparison to make a wise decision.
Payroll is one of those functions in a business that isn't sexy, but that needs to be 100% accurate. If you get payroll wrong, you're in trouble not just with your employees, but with the state – which wants your payroll taxes! So payroll applications and payroll services need to be totally reliable. Let's take a look at two of the big ones – RUN Powered by ADP, and QuickBooks Payroll.
QuickBooks is best known for its accounting software, but it also offers its own payroll system that integrates seamlessly into QuickBooks Online. (There are also payroll options for QuickBooks Desktop, but we haven't looked at them here.)
QuickBooks focuses on the accounting needs of small and medium sized businesses. So QuickBooks Payroll starts out doing the financial and accounting jobs – getting your staff paid, making sure the right taxes are filed and paid, and so on. But as you move up price packages, you get more HR resources too.
RUN comes from ADP, a company that specializes in payroll and HR. It has what at times can be a confusing set of different products, including ADP Workforce Now for companies with 50 up to 999 employees, as well as a large enterprise solution. We're looking at RUN, which suits businesses with fewer than 50 employees.
Both products start with a pretty basic pay-the-checks-and-file-the-taxes application at the lowest pricing level, while paying more expands the functionality up from accounting and payment management into full HR support. Both products are provided over the cloud, so you don't need a particular IT configuration to use them – just good internet access.
So they are pretty similar in many ways. But which product is the best? We've kicked the tires, read customer reviews, asked consultants, and read the specifications … let's see if we can come up with a winner.
QuickBooks Vs ADP: Comparison At a Glance
1. Features
Winner: Tie. Both these applications do a good job of managing your payroll. They're robust and reliable ways to ensure your workforce is properly paid.
2. Pricing
Winner: QuickBooks Payroll. ADP doesn't disclose prices but customers say it's generally one of the more expensive applications in the space.
3. Ease of use
Winner: RUN. RUN has a much easier interface to use and is more intuitive – though QuickBooks isn't at all bad, particularly as regards automation.
4. Mobile Apps
Winner: QuickBooks Payroll. Neither application covers itself in glory; the mobile apps allow only limited functionality. QuickBooks has happier customers: perhaps because it promises less, but does it reliably.
5. Integrations
Winner: RUN. This is simple. RUN will work with different accounting software, including QuickBooks; QuickBooks payroll only works with QuickBooks.
6. Customer Support
Winner: RUN. RUN offers 24/7 service, whereas QuickBooks offers only biz hours.
7. Setup
Winner: Tie. Both applications are really simple to set up.
8. Reports
Winner: Tie. There's not a lot to choose between these applications here. You'll get all the standard payroll reports you need, but not a lot more.
Short Verdict
Both these applications are robust and offer a full payroll service. Both are easy to set up and use. And both of them work with QuickBooks accounting software, too.
RUN is more attractively designed and easier to use – but it's also more expensive. QuickBooks offers better customer support, and is cheaper, but it doesn't work with accounting packages other than QuickBooks.
So, it's a tie!
1. Features
As we mentioned, QuickBooks Payroll comes from a firm that makes accounting software and at least at the bottom level, it does show its origins. It does all the basic payroll stuff you need:
creates paychecks / bank payments,
calculates payroll taxes,
reports new hires to government,
handles employee reimbursements,
manages garnishments and deductions,
manages multiple pay rates,
manages health benefits,
fills in and issues tax forms, including W2, and 1099s for contractors, and
runs payroll instantly.
It's really robust, particularly when it comes to tax and payment integration. It will run next-day direct deposit even in the basic plan, and you can make changes all the way up to 5pm the day before payday. The Premium plan goes even further and allows same-day changes. That's a godsend for any firm that gives commission bonuses, or has staff working irregular hours.
You'll also get a workforce portal where employees can access their pay stubs and W2 forms.
In the upper tiers of pricing you'll also get workers' comp administration, and an expert set-up review. Since payroll can be tricky to get right, with a lot of compliance involved, this feature is well worthwhile.
When you get to the top level of pricing QuickBooks really starts delivering more of a full HR solution, with onboarding and performance assessment, time and project tracking, white glove set-up, and access to an HR support center.
RUN comes from an HR focused company, so it sees payroll as part of your human resources function and provides a more well rounded total workforce solution in its higher priced plans. What you get as standard includes:
Full service payroll
direct deposit or paycheck options
new hire reporting
W2 and 1099 processing (at additional cost)
preview summary, so you know what payroll's going to take out of your bank account before you run it
onboarding and employee self-service
contractors as well as employees can be paid.
Onboarding and employee self-service can really make a difference if you have high staff turnover – getting staff to enter their own bank details doesn't just free up your time, it also makes errors less likely. RUN also offers on-demand payroll runs, which can be useful if you regularly need to pay outside the normal cycle.
As you move up through the plans you get more HR features such as background checks, an employee handbook wizard, HR training, toolkits, and tracking, and even, at the top level, legal assistance. You'll also get Ziprecruiter, which lets you post jobs to over 100 job boards with just one click.
Winner: Tie
2. Pricing
Unlike most other vendors in this space, ADP doesn't quote standard prices even at the most basic level; you'll have to ask for a quote, whichever of the four packages you choose.
ADP starts with the Essential package, and has three further levels each of which adds fresh functionality:
Enhanced adds wage garnishment (which is standard in QuickBooks) and State Unemployment Insurance,
Complete includes HR Helpdesk, forms, documents, and HR tracking
HR Pro includes employee management tools, enhanced helpdesk, and training.
It's worth noting that ADP doesn't give you unlimited payroll runs as standard, and has extra charges for a number of features.
We understand from customer comments and industry analysis that ADP is one of the more expensive payroll apps around. Smaller businesses may find it too expensive. However, for mid-size companies that are beginning to need a more robust solution it may be well worth considering.
We're also a little concerned by the fact that RUN is priced on a quote basis even at the lowest end of the market. We don't know any other small business payroll app that does this, and we wonder whether it even costs in for ADP – taking up hours of sales time on a comparatively small contract.
RUN does, however, have a special offer at the moment which will give you three months free. It doesn't, though, appear to have a free trial – if you take the offer you'll be committing to a continuing contract.
QuickBooks Payroll is upfront about its pricing, with three price levels offering increasing functionality.
| | | | |
| --- | --- | --- | --- |
| Plan | Base price per month | Per employee per month | Functionality |
| Core | 45 | 4 | Basic payroll runs, next-day deposit |
| Premium | 75 | 8 | Adds same-day deposit, new hire reporting, HR support, time tracking via TSheets mobile app |
| Elite | 125 | 10 | Time and project tracking; $25,000 tax penalty protection*; personal HR advisor and dedicated support |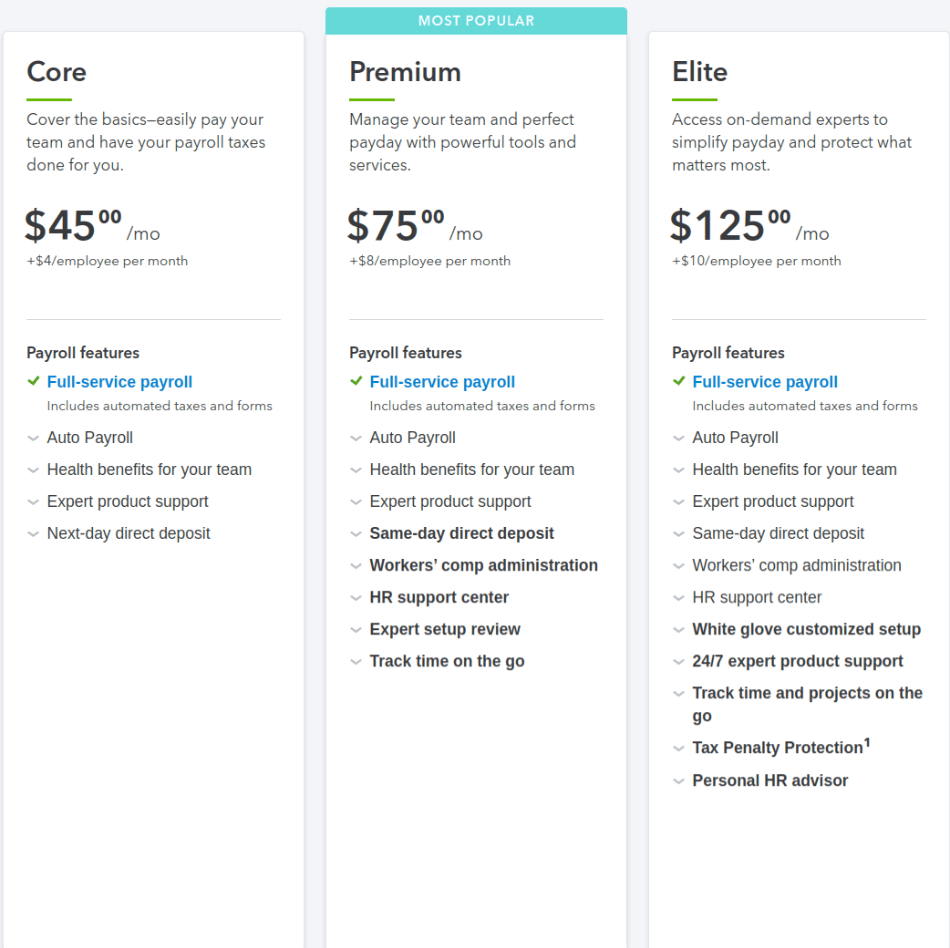 * QuickBooks tax resolution team will handle the situation, as well as paying out up to $25,000 to cover any penalties
30 day free trial or discount on first three months
However, QuickBooks makes extra charges for some features and these can bump up the price. For instance, filing in more than one state incurs extra charges, as does administration of health benefits, and workers comp – though 401(k) plans come free. Direct deposit payments to contractors are also charged extra, at $4, $8 or $10 per contractor (depending on which pricing plan you've chosen), and 1099 filings cost $14.99 for the first three forms (though if you issue more than 20, they're free).
If you don't use contractors, though, and all your employees are in a single state, you can pretty much rely on paying the package price and not a lot more.
Let's take one example. With ten employees we've been told the RUN Enhanced level would probably cost from $150-200 a month.
With QuickBooks, the Core level would cost a basic $45 a month, plus $40 for the per-employee charge – that's $95 a month, quite a way below what RUN would cost. Premium would cost $155, towards the bottom end of the RUN range.
Only when you get to Elite would QuickBooks add up to more than RUN, and even then, $225 a month compares pretty well with the top end of the competitor's range, while offering you a lot more functionality.
We may be wrong, though. You'll need to go through the quote process to find out what RUN will cost your business, and compare that with the price you'd pay for QuickBooks at your preferred pricing level.
Winner: QuickBooks Payroll
3. Ease of Use
We like RUN a lot. It has a very clean looking interface, in which well designed big icons are used extensively to represent the different actions you can take. It doesn't feel at all like a spreadsheet or an accounting app – more like the front end for a decent entertainments app!
We also like the to-do list. It will flag up payroll dates, but also issues like requests for time off that you need to reply to, or discrepancies that you need to check out.
RUN also makes good use of wizards: for instance there's a New Hire Wizard that makes onboarding really simple. Processes are streamlined, and running monthly payroll is easy.
The QuickBooks interface looks rather more conventional, though it's highly intuitive and has a high degree of automation built in. Users say QuickBooks Payroll is much easier to learn than QuickBooks accounting software, and the AutoPayroll function makes life really easy, as long as all your employees are in a single state. (Even if you have operations in different states, you still only need three clicks to run payroll.)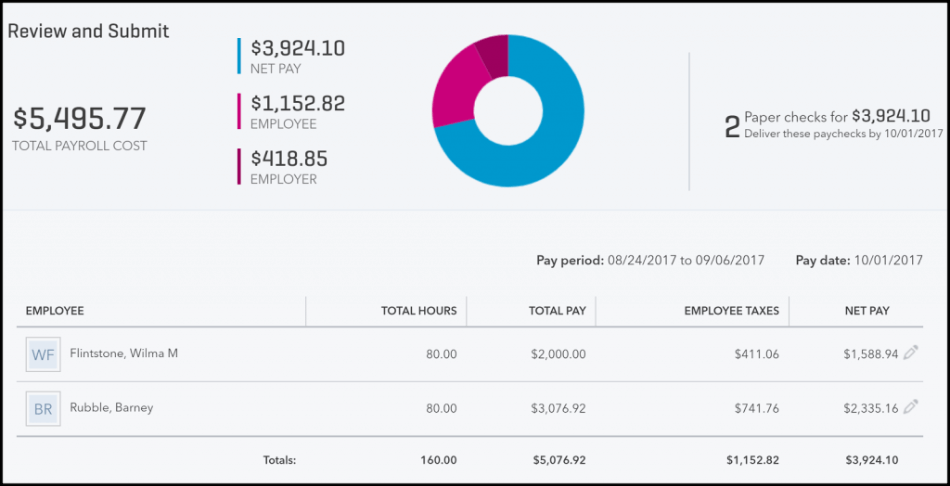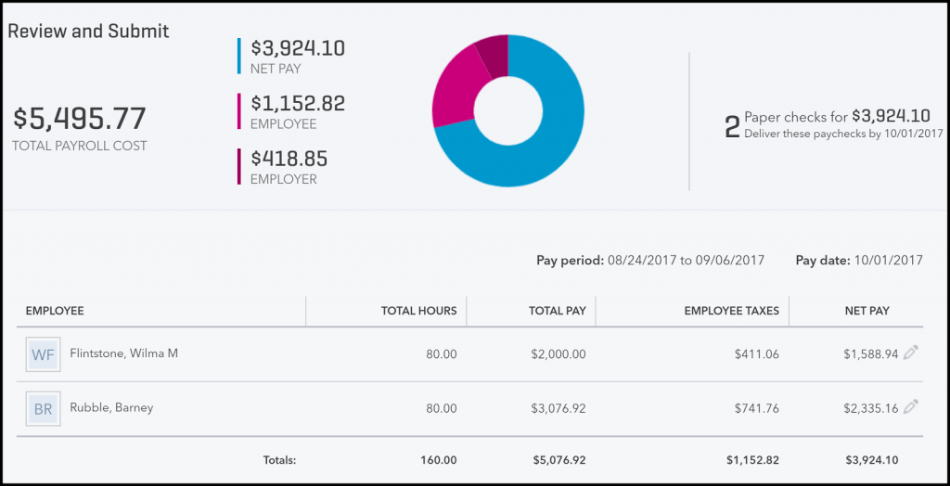 Workflows are highly streamlined and the interface, if not particularly attractive, is clean and easy to use.
The main grumble customers have about QuickBooks Payroll's usability is that it can run frustratingly slowly at times – though QuickBooks appears to have noted this is something to work on, and is now improving its performance .
Winner: RUN
4. Mobile apps
One thing that the Covid-19 crisis has shown is that mobile functionality is crucial. You can't depend on being able to get to the office if you're in lockdown – and if your computer is in the office that means you need to be able to run things on your smartphone. Both these payroll applications will let you run basic payroll and tax functions, but they aren't full service and don't let you do a whole lot more.
The QuickBooks mobile app lets you run payroll and pay taxes from your mobile. You can't change pay rates or edit employee information via the mobile app, but if you're out of the office and on the road, you can ensure employees are paid on time. It's limited, but it does what it's meant to.
It's available on both Android and iOS, and gets four and five star reviews on both. (However, some businesses found that server sign on was an issue, suddenly being locked out after months of using the system successfully. This appears now to have been addressed by the company, as we haven't heard any complaints since the end of 2019.)
The RUN mobile app is also available on both Android and iOS, but users don't appear to be happy. That may because the app promises more than it actually delivers – the functionality is limited, similarly to QuickBooks, to running payroll without changing employee details or pay rates.
It's surprising that it doesn't deliver more. The mobile app for Workforce Now, ADP's mid-size enterprise package, is really good at offering a wide range of different capabilities, and also allows employee self-service through the app. Perhaps ADP will get around to updating the RUN app at some point to give it more functionality.
Winner: QuickBooks Payroll
5. Integrations
If you already have QuickBooks Online as an accounting application then you should know that QuickBooks Payroll plays nicely with it, as well as with another Intuit product, Tsheets. Between the three of them, all your accounting, payroll and timekeeping needs are well provided for. Employees can track their time, that feeds into your payroll system automatically, and that will feed automatically into your accounts.
In fact if you have QuickBooks Online, QuickBooks payroll is already in there – you just have to switch it on (and pay for it).
But QuickBooks Payroll doesn't integrate with any other accounting software. You'd have to enter data manually or transfer it using exported Excel spreadsheets. That's time-consuming and could lead to errors.
ADP also integrates with TSheets, as well as with other timekeeping applications like Homebase and Clockshark. But where it's one up on QuickBooks Payroll is that it also integrates with other accounting systems such as Xero and Wave, as well as with QuickBooks, and it has dozens of other third party integrations.
Winner: RUN
6. Customer Support
ADP has 24/7 phone and online support. Many competitors in this space don't offer 24/7 support, so that's a definite plus for ADP. However, customer reviews show huge variation in experience, with some customers rating ADP as excellent, while others are unhappy that they haven't been able to get issues addressed. There's also a dearth of information on ADP's website about how their service offer works.
QuickBooks doesn't offer live support at weekends, but does give 6-6 support during the week, and has great online resources. QuickBooks gets diverse user reviews, which appear to reflect variations in the expertise and training of their support staff.
Winner: RUN for the longer hours.
7. Setup
Both applications run in the cloud, and are therefore easy to set up with no installation required. If you already use QuickBooks Online, activating QuickBooks Payroll is done in just a couple of clicks. Filling in the required information happens in a process that's structured as a series of questions about your business, then about your employees. Entering employee information is fast and intuitive, and then you're ready to roll.
RUN introduces you to the system with a series of wizards, including easy import from any previous payroll system you might have used, a Company Setup Wizard, and then an Employee setup or new hire wizard. Again, all very intuitive and easy to do.
Winner: Tie
8. Reports
QuickBooks produces a thorough payroll summary report that shows such headings as vacation, sick time, pay, taxes per employee, and also shows the totals that you have paid. It shows tax adjustments, too, which can be one of the more complex challenges of payroll for the small business. Don't forget that integrating QuickBooks Payroll with the accounts system lets you look at the very full range of accounting reports available, too.
RUN's presentation is very simple, and you can download, drill down, or export reports to Excel very easily. (However, if you want bells and whistles such as comparison of your pay rates to competitors, you'll have to step up to Workforce Now.)
Winner: Tie
Final Thoughts
One big aspect of this decision is whether you already use QuickBooks Online as your accounting package. If you do, then choosing QuickBooks Payroll is a great idea; seamless integration and robust basic payroll functions will make it work well for you.
If you don't have or want QuickBooks Online, then you'll need to look elsewhere. And even if you do run QuickBooks Online, you could still choose RUN – that's just one of a number of different accounting integrations that it supports.
We're slightly put off RUN by its high pricing and lack of price transparency as well as mobile apps that don't seem to be well received by customers. But its ease of use and 24/7 customer support let it win those categories, and it's a robust solution. For growing businesses, it also offers the possibility of scaling up to the Workforce Now solution when necessary, building in an element of future-proofing that isn't there with QuickBooks payroll.