(Last updated on January 9th, 2023)
In this post, we will compare QuickBooks Simple Start vs. Essentials vs. Plus vs. Advanced.
You may have decided QuickBooks Online is the right accounting application for you. It's one of the best accounting apps for small and medium sized businesses, so you've made a good decision.
All versions of QuickBooks Online offer a cloud-based accounting application that will work on any computer that runs an up to date version of a major browser, together with iOS and Android apps for invoicing and receipt scanning. They will also run your bank reconciliations automatically, and allow you to carry out all your invoicing as well as other accounting functions.
They all offer good business reporting, and integrate with a vast number of apps from payroll and CRM to payment gateways and specialized industry or project management software. All offer secure cloud storage for your data, as well as a specialized view for your accountant (over and above your permitted number of users). They're also pretty user-friendly and not too hard to learn your way around.
But the four different QuickBooks Online packages have differing functionality and four different prices attached. They range from a single-user system that delivers a pretty basic accounts application, to a 25-user system that provides advanced reporting and business intelligence functions and can adequately serve a medium-sized enterprise. Each level contains everything that's in the previous level, and adds more functionality and more users to the mix. You may need to do a little work to find out which one is right for you.
In this article we'll run through the differences between the versions, and show exactly what additional features you get at each level of upgrade. We'll also suggest which are the critical factors to consider when you're making your choice, and we'll finish by summarizing the sweet spot for each level of QuickBooks Online.
QuickBooks Simple Start
Simple Start will give you all the tools you need to manage a basic set of business accounts. Like all the QuickBooks products, it's based on full double-entry accounting, though as a user, you won't see the double-entry system and you don't need to understand how it works; it's well hidden in the background. Only your accountant will know it's there.
Simple Start delivers the following functions:
invoicing and payment acceptance
integration with payment gateways (PayPal, Square)
sales tax
scanning for receipts
sales and expenses tracking
maximizes tax deductions on your expenses
bank and credit card account connection and reconciliation
unlimited customers and suppliers
generates full profit & loss and balance sheet statements
more than 20 separate reports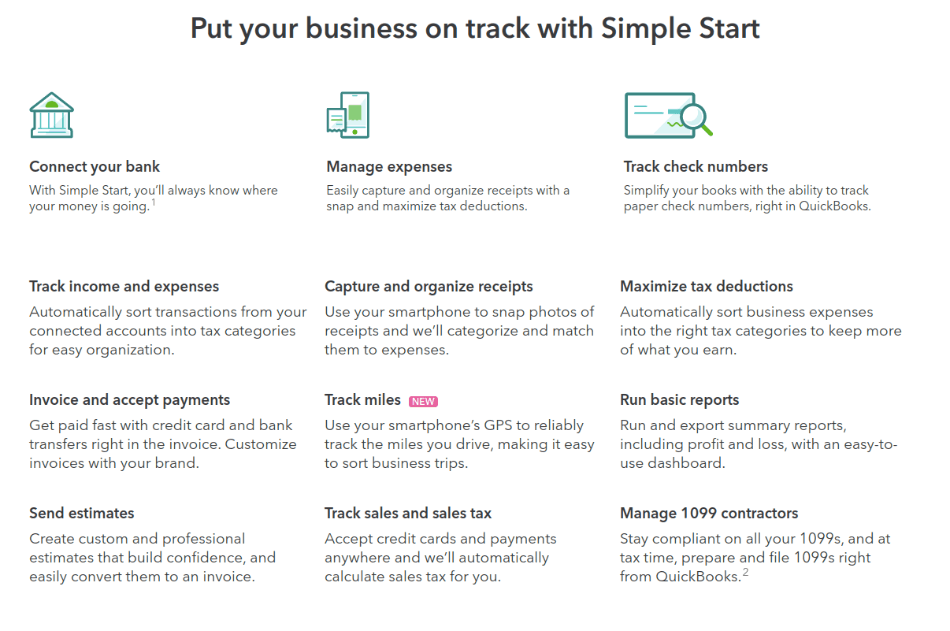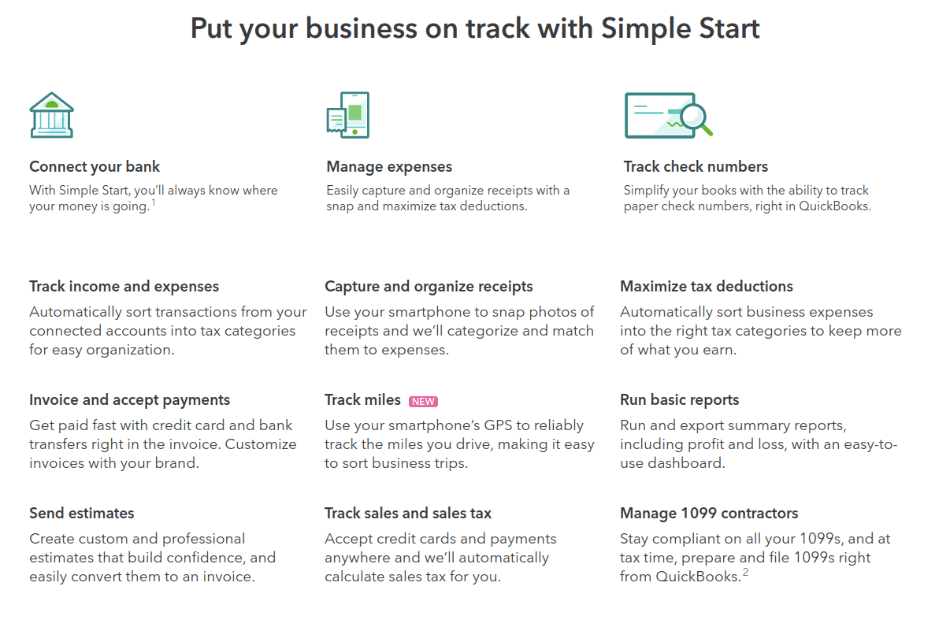 Simple Start is limited to a single user; it also has access for your accountant included in the subscription. (Accountants get a particular 'access all areas' log-in so they can see the full double-entry workings.) That means it works best for self-employed freelancers, single-person businesses, and for small businesses where only one person needs to use the accounts system interactively.
For instance, there might be three of you in the business, but only one of you ever handles the accounts – the other two may use a separate system for the records they need to be submit (eg a time tracking app), or may only need to view exported reports. If you centralize all your financial accounting, Simple Start can work for you.
You can customize your invoices, so that they match your business branding. You can send invoice reminders, and if regular customers want a statement so they can see their total account with you, Simple Start can churn it out.
You can also send estimates, and then, if they're approved, turn them into invoices automatically. That simple automation can streamline your business and save you a lot of time if you're the type of business that regularly pitches or quotes for business – a builder, designer, or technical writer, for instance.
Simple Start lets you use contractors and issue their 1099 forms. That wasn't originally the case, but so many small businesses are using contractors that the functionality was dropped down the price tiers.
And you have a customizable chart of accounts. That means you're in charge of what categories and sub-categories the system uses. If you want to categorize all your income depending on whether it is in your 'original' business or the new area you've just moved into, you can do it. Or you might want to track repeat business and new clients. You can go down to five layers of sub-categories, too.
Simple Start has a few limitations. Unlike the Self Employed version of QuickBooks Online, it doesn't include a subscription to TurboTax, so if you're self-employed, tax time could be a bit of a trial. It also doesn't give multi-currency functionality.
It also doesn't track accounts payable. While support for sales is excellent it's less useful when it comes to looking at your cost base. You can't easily manage your vendors and bill payments with Simple Start; this makes it less useful for retailers and manufacturers.
The good news? If Simple Start gives you what you need, it's pretty easy to learn, and reasonably user-friendly.
QuickBooks Essentials vs QuickBooks Simple Start
Essentials lets you have up to three users in the business, as well as your accountant. The other major upgrades from Simple Start are in automation, and handling of accounts payable. Essentials also delivers multi-currency functionality.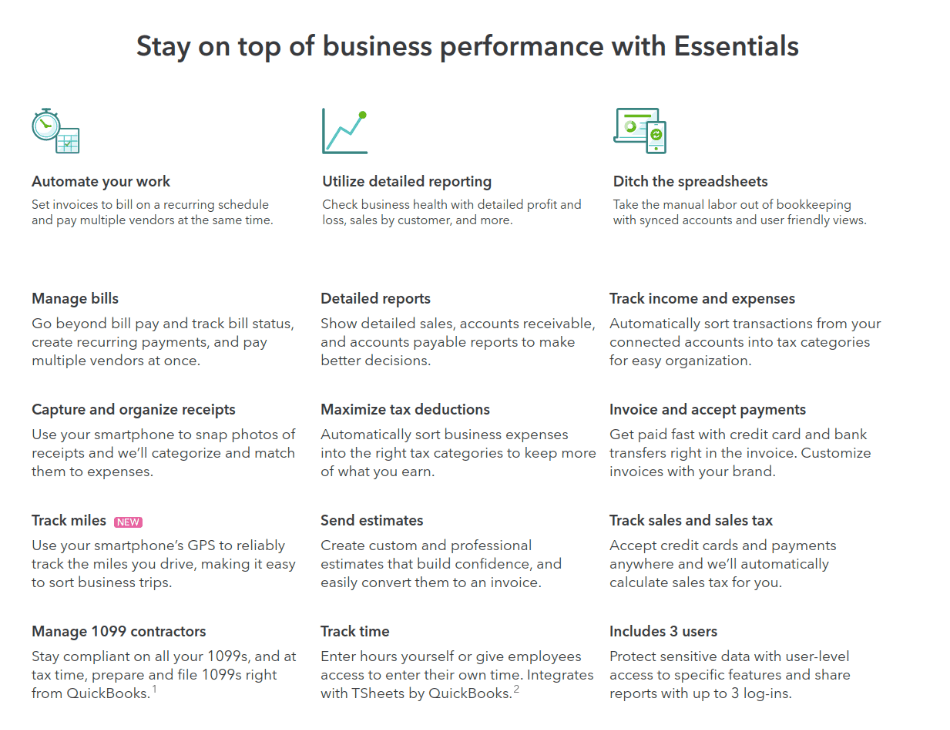 While you're thinking about whether you need extra users, remember that adding more users can help you become more efficient. For instance, if you have a salesperson who's on the road all the time, letting them issue invoices and submit receipts themselves directly to the accounts system is a smart idea – even though normally you might not think of them as part of the finance department.
Automation can save you a lot of time, too, and this is where Essentials makes a big difference. For instance, Essentials handles recurring invoices. It not only generates the invoice, but will automatically email it out to your customer. That's a lot of work saved if you have regular subscriptions or retainers to bill. You can schedule invoices in advance, as well.
Essentials lets you pay your bills from within the application, and tracks accounts payable with a report so you can see whether you've missed any payments or whether any of your bills have increased unexpectedly. If you have significant business costs, Essentials is going to work well for you. It even reminds you when bills are due, and you can pay multiple vendors simultaneously.
You get full multi-currency support with Essentials. (If you need this, then don't even consider Simple Start, because workarounds are not a good way to go.)
You'll also get a bunch of new reports. Essentials delivers over 40 reports including
Company Snapshot and Scorecard to give you a 'helicopter' view,
accounts payable by age,
unpaid bills,
summary of income by customer,
expenses by vendor.
For each customer, you can drill down to a list of outstanding invoices rather than just the total outstanding. And the profit and loss account that Essentials delivers is considerably more detailed than in QuickBooks Online Simple Start.
QuickBooks Plus vs QuickBooks Essentials
According to the company, this is the biggest seller of the four packages. It's a full-featured package that takes you up from three to five users (plus your accountant), and adds really significant functionality. In our view, the improved inventory tracking alone is worth the step up in price – that's an important feature if you're in retail, wholesale, or manufacturing. (If your business is in services, you can probably give it a miss.)
QuickBooks Plus gives you FIFO inventory tracking – First In First Out (that means your oldest stock sells first). If you don't have this feature, you can't really see how your stock turn affects your profitability. Plus also allows you track both quantities and cost of inventory, which you can't do easily in Simple Start or Essentials. If you manufacture or retail physical products, unless you are a very small business with very simple inputs and outputs, you probably need Plus.
Plus also gives you the ability:
to make purchase orders and track them,
to make budgets,
to organize sales and costs by multiple locations,
to track profitability by class (and you can assign multiple classes to a transaction, giving you lots of flexibility),
to run time-tracking (with unlimited time-tracking-only users, great if you're a consulting or professional services firm).
You also get 65 reports, including
budget overview and budget vs out-turn
profit and loss by location
time activities by employee or by customer,
profit & loss by class.
By creating user-defined classes you can track your revenue and profit by location, by salesperson, by product line, strategic product area, or customer type (eg 'mom & pop', 'e-commerce' or 'multiple retail'). Tracking profit by salesperson is a great check on the kind of salesperson who creates a lot of revenue by discounting aggressively – if your profitability is suffering, you need to have a word!
In our view, the biggest thing missing from Plus is more users. It only adds a further two users to the three you already get with Essentials. That's on the skimpy side for many growing enterprises, which may use up their entitlement just with their finance staff and top management team.
QuickBooks Advanced vs QuickBooks Plus
QuickBooks Online Advanced marks a steep step up in price – it's more than twice the price of QuickBooks Online Plus – but takes you from 'small business' into 'enterprise' territory. It also lets you expand from 5 to up to 25 users (plus your accountant) – a very significant step change in capacity. Effectively, we've left the small business owner behind for the young enterprise.
Reporting is the big feature that Advanced offers over and above what you get in QuickBooks Online Plus. Its business analytics is powered by Fathom business intelligence, so you can build your own dashboards, or create Key Performance Indicators (KPIs) including both financial and non-financial information. This might not be worthwhile for a small business, but if you're a growing mid-size enterprise it can really help you to make better business decisions and keep your business moving forwards.
Custom user permissions will help you keep tabs on who's using and creating your sensitive financial data. For instance you can let salespeople enter invoices and estimates themselves while not allowing them to see any other data or reports. Using custom permissions will also let you delegate accounting tasks, too, which delivers better efficiency.
Other added functions include
batch processing of invoices,
dynamic reports.
But for the most part, you get the functionality that QuickBooks Plus already delivered. It's the 20 additional users and the business analytics that are the two big deliverables for this package. For most businesses, while the analytics capability is nice to have, it's moving up from 5 to 25 users that will be the deal maker.
As well as offering greater functionality, QuickBooks Online Advanced also has two special advantages when it comes to service:
QuickBooks Priority Circle membership, giving you access to your own account manager and premium, 24/7 technical support,
up to $3,000 worth of online training for your users.
While QuickBooks' customer service for many of its products gets mixed reviews, training for its high-end products is more responsible and expert. Many users rate it highly. And you'll get 24/7, not just business hours tech support. That's useful if you run 24/7 or need to use the system across different time zones.
Pricing & Limitations: QuickBooks Simple Start vs Essentials vs Plus vs Advanced
The four-tier pricing system roughly doubles the price with each additional layer of functionality and expansion in the number of users. Users have reported that QuickBooks salespeople try quite hard to up-sell their customers, and you can see why. That's why it's important that you've really thought hard about your choice of a package and know exactly what you want, and why.
Pricing is very simple – the monthly price includes tech support, unlike QuickBooks Desktop which has both purchase-only and subscription models. The price includes all users permitted at that level of the system – you don't have to pay separately for each user.
| | | | |
| --- | --- | --- | --- |
| Version | Price per month | Standard reports | Total users permitted |
| Simple Start | $25 | 20 | Single user |
| Essentials | $40 | 40 | 3 |
| Plus | $70 | 65 | 5 |
| Advanced | $150 | 100 | 25 |
A 50% discount is available for the first three months. Or you can take a free trial, but that may mean you can't then access a discount.
However you do need to budget for a few additional costs.
QuickBooks Online doesn't do payroll, so you'll need to spring for QuickBooks Payroll (from $45-125 a month base, plus $4-10 per employee per month) or a payroll integration like Gusto. This is the same for most accounting packages; it's not specific to QuickBooks.
Credit card payments and ACH transfers handled via QuickBooks Payments have a cost. (1% for ACH and 2.4% swiped, 2.9% invoiced, 3.4% keyed for credit cards).
There may be additional costs for checks and 1099 forms.
These additional costs don't vary by package.
Summary
Each of the price levels has its sweet spot. But you should remember to check that the level you've chosen delivers, in detail, exactly what you want.
Simple Start is the best of the packages for sole traders and small service businesses who don't have a complex cost base. Its lack of accounts payable functionality makes it a poor choice if you have a lot of supplier bills to pay.
Essentials is a good choice for small businesses with inventory and expenses to track. If you need to track accounts payable or need more than one user, you'll want to step up to Essentials.
Plus introduces much more functionality for companies with a big base of contractors to pay, and for retailers or wholesalers who need to manage inventory. It also delivers budgeting capabilities as part of your accounting system. If you want to be able to use budgets strategically, and not have to do them on a separate spreadsheet, Plus is for you.
Advanced has the edge on business reporting but doesn't offer much more than Plus in terms of accounting functionality – except for batch invoicing. However, it does let you have up to 25 users, and it also delivers strong capabilities for setting permissions for those users. Plus, you get dedicated high-class support and some free training. When your SME is moving up from 'S' to 'M', you're going to want to think about using Advanced.
Most small businesses are probably best served by one of the middle two packages, QuickBooks Essentials and QuickBooks Plus. (If your business needs inventory management, choose the Plus package.) Simple Start may be too simple for some businesses, while Advanced doesn't offer much more accounting functionality than Plus.
Of course, if your small business grows and grows, you may end up with a decent sized little enterprise – and at that point, you can upgrade to Advanced to get the extra users and support. You won't need to change your accounts system, you won't need to re-input or import your data, and you'll already know your way around.
FAQs
Can I import data from QuickBooks Desktop?
Yes, if you're moving from Desktop to Online, you can import your data; you won't have to enter it manually. You simply export a 'Company File' from Desktop, and import the data via the setup process in QuickBooks Online.
But you can't use both Online and Desktop together. You need to choose one or the other.
How easy is it to upgrade my QuickBooks Online package?
It's very easy to upgrade. You can do it from within the application just by using the Gear icon to access your account settings, and your data stays in the system.
So if you've narrowed your choice down to a couple of levels, you could start with the lower priced package and then move up if you find you need more users or more advanced features.
Can I let staff share a single-user account?
Theoretically, you could let staff share a single-user account, but we don't recommend it. You won't have an audit trail, and you could end up with errors.
However, if you have two people doing a job share, or change book-keeper, as long as they have the credentials, you won't have a problem.
Does QuickBooks Online include payroll?
QuickBooks Online doesn't include payroll as standard. But it does integrate seamlessly with QuickBooks Payroll – you simply turn on the Payroll feature within the application if you decide you need to use it. You'll need to pay an extra $45 a month plus $4 per employee. Alternatively, you can choose a payroll integration such as Gusto, Rippling, or SurePayroll.
Can I use QuickBooks Online offline?
Since QuickBooks Online is cloud software and your data is held on QuickBooks' servers, you can't use it offline. If you have problems getting reliable internet connection, you should probably consider QuickBooks Desktop or another accounting software instead.