(Last updated on August 11th, 2023)
QuickBooks Online or QuickBooks Desktop? Which is better for you and why?
Read this ultimate QuickBooks Online versus QuickBooks Desktop comparison to make a smart decision.
QuickBooks is one of the best known accounting applications for small and medium sized businesses. It's well regarded as offering a complete, robust and in-depth accounting package.
But QuickBooks comes in two versions – Desktop and Online.
QuickBooks Desktop launched all the way back in 1992. Though it's continued to develop and has been substantially upgraded over the decades, it still works as installed software on your desktop computer or server.
QuickBooks Online was introduced in 2004 as a cloud-delivered application. Initially it was a cut-down, reduced-functionality version of what you got with Desktop. Now, Software as a Service (SaaS) has gone mainstream, and it's a heavyweight contender in its own right.
The fact that one is cloud-delivered and the other is locally installed isn't the only difference. They have a different look and feel, and different functionalities – notably, Desktop offers industry-specific versions.
In this article, we're going to look at the differences between the two styles of QuickBooks, and how to make an informed choice between the two.
Cloud vs Locally Installed
This is obviously a major difference and could affect your decision. It's worth noting that you can't use QuickBooks Online when you're not connected. (It's not like Google Docs, for instance, which has offline capabilities for those times when you aren't within range of a connection.) So if you are based in a locality with a poor internet connection, or occasional internet outages, you might do better with Desktop.
On the other hand if you run a highly mobile business, Online has huge advantages. You can access it from anywhere, through any computer that runs a major browser or through your smartphone or tablet.
Businesses which have found Online really useful include landscaping services, mobile car valeting firms, and breweries who deliver to local bars, as well as consultants who regularly work on client premises. Not only can you issue invoices on the spot – you can check your client contact details and directions on-the-go.
Online also has a hidden advantage – security. Because it's delivered through the cloud, encryption and security is handled for you. So are backups – your data is held and backed up on the QuickBooks server (though it never hurts to take the occasional backup yourself, just in case). Desktop does offer an automated backup service, but it costs extra.
QuickBooks Online vs QuickBooks Desktop: Functionality
Both QuickBooks Online and QuickBooks Desktop are based on full double entry accounting systems and support all areas of accounting, including fixed assets and accruals.
QuickBooks Online includes a special access for your accountant as part of your subscription. With Desktop, you'll have to mail a paper report or data copy – or your accountant will have to spend a day or two in your offices. That's not always convenient, and mailing data or hard copy is a security risk.
A huge number of book-keepers and accountants know QuickBooks in one or both versions, so you will never have difficulty finding the right professional help.
Overall, QuickBooks Desktop offers you deeper functionality, particularly for inventory management. But the gap is eroding year by year. Parent company Intuit has clearly seen that the market is headed towards SaaS becoming dominant, and is beefing up QuickBooks Online.
Let's look in detail at what Desktop gets right.
While both versions of QuickBooks have contact management, Desktop lets you track sales leads. That's pretty powerful functionality. Admittedly, if you have QuickBooks Online, you could integrate a CRM to get the same capabilities.
Desktop lets you create sales orders. If you have complex fulfillment processes, you'll need this.
You can run unlimited companies with Desktop. With Online, you'll need a separate subscription for each different business.
Desktop allows you to calculate job costs. The costing functions in Desktop are superior to those offered by QuickBooks Online; that's particularly the case in the industry-specific versions of Desktop.
Desktop allows you easily to set a specific discount rate per customer.
Desktop also builds in customizable letters, with a spell check, and basic calendar. But again, some of these features could be addressed via integrations if you wanted them in QuickBooks Online.
Desktop's Premier and Enterprise price packages have industry-specific versions with expanded functionalities for the following verticals:

retail
manufacturing
non-profit
wholesale
professional services
construction / contracting
accountancy practice.
In our view if you're in one of these verticals, you'll be really well supported by the relevant version. For instance, support for job costing, bills of materials and invoicing of contracts by the percentage completed will make any contractor's life much easier.
However, Desktop doesn't have everything its own way. Some banks still charge for live feeds to QuickBooks Desktop. It's not a huge cost ($10-15 a month) but it's an annoyance.
More seriously, the price you pay for such great functionality is a steep learning curve and an interface that feels dated. Desktop is a system that accountants find easy to get to grips with, but some business owners regard with fear.
Let's take a look at what QuickBooks Online has to offer in comparison.
This is cosmetic perhaps, but you're going to get much better looking invoices to send to your customers, supporting your branding. Desktop's invoices look, frankly, as if they've been generated by accountants who haven't made it into the internet age and have only just been weaned off the dot-matrix printer.
Online has better automations. For instance there's good support for recurring invoices and payments. Subscription-based or retainer-based businesses can substantially reduce the work involved in the monthly invoicing process if they use Online.
Online also has better integrations for online payment. While Desktop will accept credit card and ACH bank payments from your customers, Online offers integration with PayPal and Square. If you have a big e-commerce side to your business that's a big plus for Online.
A unique feature of QuickBooks Online is access to QuickBooks Capital, which offers short term installment loans with no application fees.
QuickBooks Online's mobile apps allow you to access the system from your phone. Though they don't give full functionality, they let you issue invoices and scan receipts for expenses into the system, which will automatically categorize them and record the amounts under the right headings.
Our feeling on functionality is that for most smaller businesses in the services sector, or without complex inventory or job costing requirements, Online is easier to use and provides a number of capabilities that will make your life easier. On the other hand for businesses at a later stage, and for contractors, manufacturers and retailers, Desktop has more to offer.
QuickBooks Online vs QuickBooks Desktop: Ease of use
QuickBooks generally has one of the steeper learning curves in the accounting application space, but most users agree that QuickBooks Desktop is the steepest. Unlike almost every other application in the space, it opens on a flow-chart style map of your business processes, rather than on a business dashboard. It doesn't make much effort to hide the double-entry accounting, or to help you navigate through the different processes.
That's a great set-up if you open the software to record accounting transactions. It's not so good if you're a small business owner and you want to see, up front, how your business is doing right now.
In other ways it's similar to the Online version, with a left hand menu and tabs across the top of the screen giving you access to different functions and areas of your accounts.
QuickBooks Online is much easier to set up and use. Because it's a cloud-delivered application, there's no installation to do, and the set-up process has been structured to take you through the necessary stages painlessly. You can even choose not to set up functions that you don't need – they can be added later as and when you find you need them.
Once you've set Online up, its automations can save considerable time once you've adapted it for your own particular needs. It also automatically syncs with your bank account (and, if required, credit card accounts) in real time.
QuickBooks Online vs QuickBooks Desktop: Pricing
It's a little difficult to compare pricing, as most Desktop versions can be bought outright or as an annual subscription. If you buy Desktop outright, support is not included. A separate Desktop license needs to be bought for each user.
The price of Desktop bought outright, at full price, is:
Pro 2023 – $299.95
Premier 2023 – $499.95
Resellers may have special offers available. QuickBooks, also, occasionally has promotional offers.
Once you've bought the software, it will continue to be supported by QuickBooks for three years until it's retired. (You could, theoretically, still use it, but bank and credit card links will stop working, and so will any payroll integration that you use.) So effectively, if you buy Pro and use it for three years, you're paying about $8 a month, or $14 a month with Premier. That's a bargain, but remember, it doesn't include support – which costs as much as the license itself.
Remember, too, that if you buy the software and use it for three years, you won't have access to any upgrades that are made during that time.
Your other option is to purchase an annual subscription – 'Pro Plus' or 'Premier Plus'. This costs the same as the one-off license, but gives you access to support and updates. If you want the Enterprise package, you need to go the subscription route. Currently, QuickBooks discounts the first year's subscription by 50%.
Pro Plus: $299.95 (first year 149.95)
Premier Plus: $499.95 (first year 249.95)
Enterprise: $1,213 (first year 1091.70)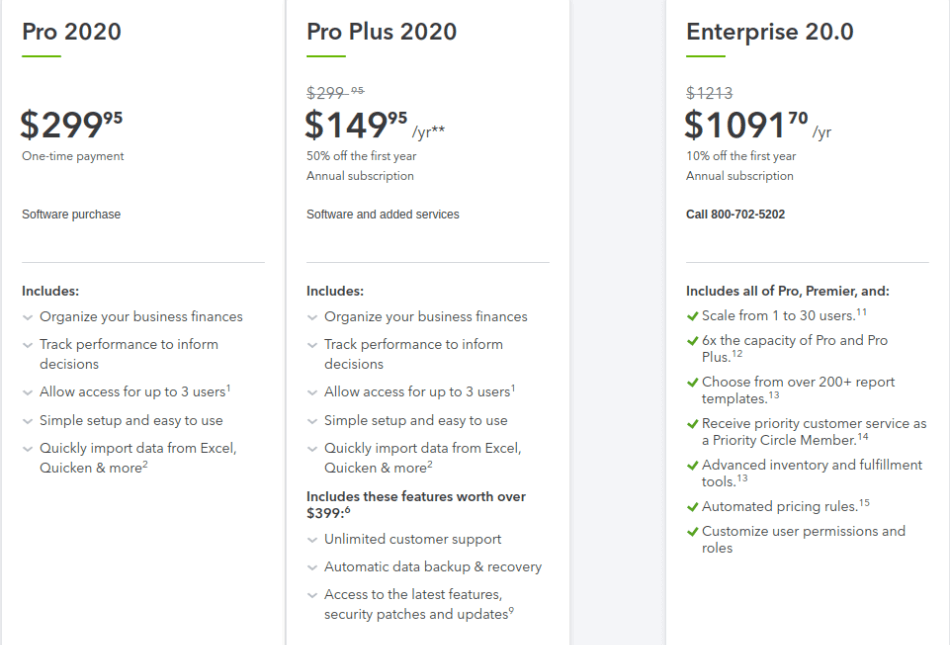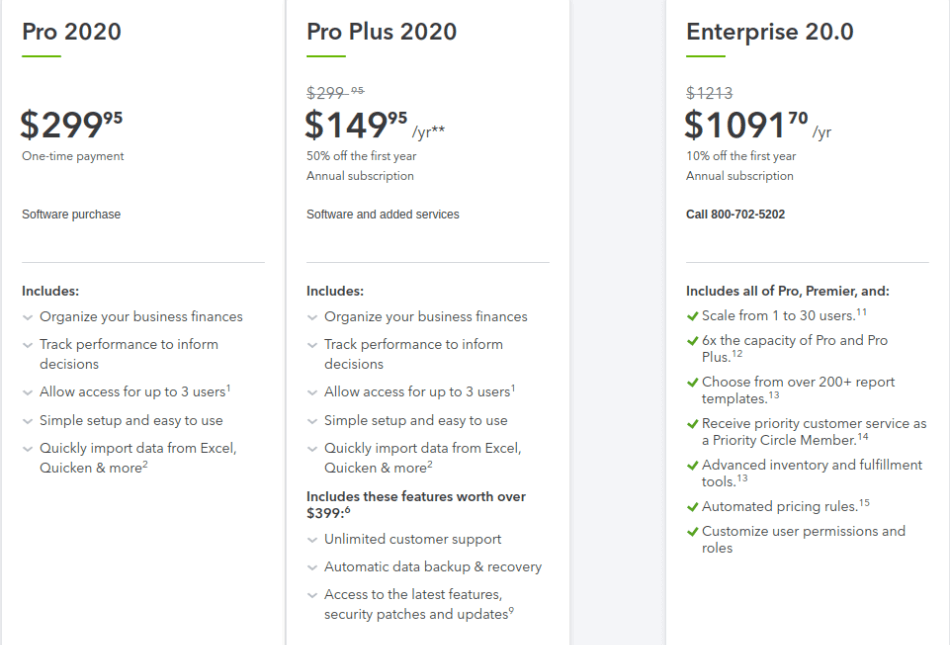 Additional fees are also payable for cloud access/hosting, at $44-200 per user per month (depending on the package).
QuickBooks Online is priced as a monthly subscription, with four price packages starting at $25 a month. The subscription includes support, and you will usually get a discount on your first three months' subscription (current offer: 50% discount).
Simple Start – $25 a month, single user
Essentials – $40 a month, up to three users
Plus – $70 a month, up to five users
Advanced – $150 a month, up to 25 users
You can also have unlimited users for the time tracking function, which is really useful if your business works on the basis of billable hours, or you have to record labor costs for specific jobs. They'll be limited to time tracking only – they can't use any other functionalities.
QuickBooks Online vs QuickBooks Desktop: Monthly Equivalents
You probably have a good idea from the 'functionality' and 'ease of use' sections which of the two versions of QuickBooks is best for you. But we've done a comparison of monthly costs to show how the two compare.
It's a little complicated because you have the two different pricing models for Desktop, and you're comparing a pay per user scheme with one which allows a certain number of users per price level. We haven't allowed for the first year discount for the Desktop subscription, or the first three month discount for Online. You'll need to crunch the numbers for your own business in more detail.
Cost Per Month
| | | | |
| --- | --- | --- | --- |
| Plans | Desktop outright purchase, without support, kept for 3 years | Desktop annual subscription | Online |
| Single user Pro vs Simple Start | 8 | 25 | 25 |
| 3 users Pro vs Essentials | 25 | 75 | 40 |
| 5 users Premier vs Plus | 70 | 208 | 70 |
| 25 users: Enterprise vs Advanced | – | 583 | 150 |
Enterprise does offer discounts for additional users, so the cost is lower than you'd expect when you look at the headline price quoted by QuickBooks. You'll need to talk to a sales manager to work out the exact cost for your combination of users and any additional capabilities (eg hosting).
For businesses with only a single user or three users, buying the Desktop software license outright and keeping it for the full three years is the cheapest way to go. However, if you have problems, you're on your own because you don't have a support contract. At 5 users or more, QuickBooks Online is no more expensive – and it's cheaper than the equivalent Desktop subscription.
Number of Users
We already talked about the number of users under pricing but it's worth assessing how this could affect your business.
The limits are broadly similar in the Desktop and QuickBooks Online packages, with levels giving you a maximum 3 or 5 users, and a top 25 (Online) or 30 (Desktop Enterprise) user limit. However, remember that with Desktop, you have to pay for a license for each user, whereas your QuickBooks Online subscription gives you as many users as you need up to the specified level within the monthly price.
If you run a traditional style business where only one or two employees need to access the accounting system, Desktop can work well. For instance, in many businesses purchase and sales orders and pick lists will be printed out or emailed from the accounts system to the relevant staff, who never need to go into the accounts software.
However, less hierarchical businesses like professional services firms, or businesses where any of the staff may want to issue an invoice or file receipts, will benefit from having more staff using the system. Online's unlimited time tracking users is a particular benefit for services firms which bill their staff's time, from lawyers to janitorial services.
QuickBooks Online vs Desktop: Integrations
Most businesses have other software systems that they use and which they'd like to integrate with their accounts system. For instance, payroll needs a different system, and many businesses use a CRM or direct mailing solution.
Both versions of QuickBooks offer numerous integrations, which include seamless integration with QuickBooks payroll as well as other software. In terms of the sheer number of integrations, QuickBooks Online wins hands down; it has over 500 integrations against more than 200 with Desktop.
Online also offers important e-payment and e-commerce integrations. If you do business online, QuickBooks Online is your best choice.
That said, QuickBooks Desktop does offer a remarkable number of integrations. So if you're considering it, but want to get your CRM or payroll to work with it, it's quite likely you'll be able to.
QuickBooks Online vs QuickBooks Desktop: Reports
Reporting is a key strength whenever QuickBooks is compared with its peers in the accounting software space. Both desktop and Online versions deliver impressive functionality.
That said, you'll get more standard reports in Desktop, with 130 standard reports at the top level against 80 in Online.
Both versions allow you to customize your reports, so if there is a particular ratio or number that you want to follow, you'll be able to save that report and pull it up whenever you need to.
Summary
| | | |
| --- | --- | --- |
| | Online | Desktop |
| System requirements | Any computer or device running a major browser | Windows 8 or 10 or MacOS X v10.14 |
| Pricing | Monthly subscription covers multiple users (depending on level) | One off license fee plus optional support payments additional fee per user |
| Ease of use | Good | Step learning curve |
| Integrations | Good, particularly payment processors | Good |
| Best features | Mobility Easy setup integration with online payments / e-commerce automations time tracking | Complex accounting Client-server systems Inventory management bills of materials, pick-pack-ship costing, job costing Industry-specific editions |
| Subscription | Monthly | Annual (outright purchase also available) |
Both these accounting systems are good, but we think their sweet spots are different.
QuickBooks Desktop has a really steep learning curve and the interface is pretty ugly. But it delivers really impressive functionality once you've learned to use it, particularly for its target verticals where there are specially customized versions.
QuickBooks Online is much easier to get started with and to use. But it doesn't deliver such powerful features, in particular where inventory management and order fulfillment are concerned.
QuickBooks Online is right for you if:
you have online sales and want your accounting system to process the payments automatically
you're highly mobile and want to be able to access your accounts remotely
you want time-saving automation of business processes
you want real-time bank reconciliation
you're a non-accountant looking to manage your accounts
you want a gentler learning curve.
QuickBooks Desktop could be your choice if:
you're in one of the verticals that has a specialized version
you have complex accounting needs such as job costing, inventory management or sales orders
you want to have locally installed software for a small number of users
you have an in-house finance function, or are conversant with double-entry accounts
you would prefer a one-off up front payment to a monthly subscription.
FAQs
Can I sync QuickBooks Online with my QuickBooks Desktop version?
No. they are two separate and completely independent products. If you move online, all your data will be hosted and you'll access it online.
What happens to my Desktop data if I move online?
You keep your Desktop data. QuickBooks will simply copy it and transfer it to your online account.
It's a good idea to run a few reports to check that all your data has been correctly copied over. Some items won't import – for instance audit trail, custom fields on lists, and bank connections – so you'll need to do that manually. And obviously, it's a good idea to keep your Desktop data to preserve your existing audit trail.
Can I run Desktop through an emulator?
No, in order to run Desktop you need to have Windows 8 or 10, or MacOS X v10.14 or later. It has to be a native installation; you can't run QuickBooks Desktop on Linux through an emulator, for instance.
I have several separate businesses. Can I keep accounts for all them on QuickBooks?
With QuickBooks Desktop, you can keep separate accounts for all your businesses. With QuickBooks Online, you'd need a separate subscription for each business. That's something to bear in mind when making your choice.
Which is more popular, Desktop or Online?
QuickBooks Online has become increasingly popular, with over three-quarters of new users now choosing the cloud model. However, there is still a huge base of Desktop users, particularly in manufacturing, retail, and contracting.