(Last updated on January 9th, 2023)
Gusto or QuickBooks, which payroll application is better in 2023?
Read this ultimate Gusto vs. QuickBooks payroll comparison to make a smart decision.
Running a small business's accounts is fine when it's just you and the dog. But things get more complicated when you start employing staff. Calculating their pay, taxes and other payroll deductions manually is time-consuming and technically challenging.
Worse, most accounting software doesn't support payroll functions. You'll need a separate payroll software to handle them.
We've looked at two online payroll applications – Gusto, one of the best known payroll packages, and QuickBooks Payroll, which is an add-on to the QuickBooks accounting package. At first glance, they look pretty similar with regard to both their functionality and their pricing structure. But a closer look reveals a few important differences.
Which is the best? We tried out the software, read reviews, went through the software specifications, and looked at user experience reported on various accounting and human resources forums. Both are good… but there's a clear winner.
Read on to find out which program claims the win!
Gusto Vs QuickBooks Payroll: Comparison At a Glance
1. Features
Winner: Gusto. Both these applications do a great job of supporting payroll. But Gusto goes further into supporting your entire human resources function.
2. Pricing
Winner: Tie. While at first sight QuickBooks offers slightly better pricing, Gusto gives you more functionality for free while QuickBooks charges such items as health benefits as extras. You'll need to do a detailed comparison to find out which is best for you.
3. Ease of use
Winner: Gusto. Both these applications are easy to use – QuickBooks Payroll is definitely easier to learn than its companion accounting software. But Gusto is just that bit slicker and its high levels of automation and employee self-service give it the prize in this section.
4. Mobile Apps
Winner: QuickBooks. This is a walkover for QuickBooks. Gusto doesn't have a specific mobile app, though you could always use it via the browser on your smartphone.
5. Integrations
Winner: Gusto. QuickBooks Payroll integrates nicely with its accounting sibling QuickBooks Online, but if you have a different accounts package, you're in trouble. Gusto, on the other hand, integrates with loads of other apps and also with benefits providers for health insurance, 401(k) plans, and so on.
6. Customer Support
Winner: Gusto. Both applications offer similar customer support on paper. But while users are often critical of what they actually get with QuickBooks support, Gusto's user reviews reflect a truly quality service.
7. Setup
Winner: Tie. Since both are cloud applications there's no installation to worry about, but setting up payroll does take time and attention to detail. Both make the process painless.
8. Reports
Winner: Gusto. You'll get all the basic reports with whichever of these two applications you choose. But Gusto adds a little refinement.
Short Verdict
We have been impressed by both these payroll programs. But Gusto just narrowly has the edge. It may be more expensive for some users, but it offers good value for money. It's also happy to work with numerous accounting software applications, whereas QuickBooks Payroll works best with QuickBooks accounting applications. If you use another accounts app with QuickBooks Payroll, you'll end up wasting time and effort exporting data manually.
On the other hand if you already have QuickBooks for your accounting needs, QuickBooks Payroll is a really useful add-on and you'll gain integration benefits.
1. Features
Both programs are cloud-delivered applications and offer robust payroll functionality that includes:
unlimited payroll runs in all 50 states
multiple pay rates handled
direct deposit
automatic calculation, filing and payment of federal, state, and local payroll taxes
filing across multiple states
issuance and filing of W2 and 1099 forms
workforce portal
new hire reporting to government
permissions (in the top two pricing tiers)
employee reimbursements
Gusto puts a huge amount of automation at the service of its users. It's pushed automation further than QuickBooks – for instance with Gusto, you can automate hourly paid staff wages as well as monthly salaries. It pushes right down into detail – everywhere except, oddly, South Carolina, it will ensure child support garnishments are paid automatically. There's even minimum wage adjustment for tip credits if you run a restaurant.
The most basic pricing package, Gusto Core, lets you run payroll as often as you want, based on your schedule and setup. You can manage time off accrual and absences, including sick time and holiday pay. Once you step up to Complete, Gusto also gives you a huge amount of support for onboarding new employees, including welcome letters. It also helps you create anonymized surveys of employees, which for a growing business is a great way of ensuring any HR issues get picked up quickly.
Gusto also gives employees their own portal with access to their pay stubs and tax forms. It's not just one-way; it allows employees to e-sign W4 and other forms, saving you time and paperwork. They can make their time-off requests via the system, too.
And besides managing your payroll, Gusto functions as an archive, storing your employee documents and allowing employees to e-sign their contracts of employment.
If you run a growing company or you're in a sector with high staff turnover, such as the hospitality industry, these features can save you a lot of time. Gusto does more than just traditional payroll – it also provides you with a pretty good Human Resources function.
QuickBooks Payroll has a few advantages over Gusto. It has a next-day direct deposit function which can be finalized up to 5pm the day before payday. That's faster than Gusto, which has a choice of two- or four-day scheduling. (With the QuickBooks Payroll Premium Plan, you can even make same-day direct deposits.)
Like Gusto, it offers a workforce portal, and now delivers tools for the creation of job descriptions, and for onboarding and performance assessment (from Premium plan upwards). QuickBooks Payroll also gives access to an HR support center in the Premium plan, which will give you information on best practice and compliance.
One feature we like a lot with the Premium package is the expert review. Payroll is a complex area and it's easy to make basic mistakes when you're setting things up. Inputting the wrong tax rates, or misclassifying workers and contractors, are easy mistakes to make. And a simple error can get you into major trouble with the tax authorities. Call on a QuickBooks expert to vet your set-up and you can be sure your system is working properly.
QuickBooks Payroll has a nice integration that we're going to mention here as it's a feature that makes a lot of sense for enterprises – TSheet mobile app access allows employees to track their time and that gets fed into your payroll. If your business lives on billable hours, this is the way to go.
The top level price package of both Gusto and QuickBooks delivers a mixture of software and HR consulting service. Gusto Concierge effectively delivers an outsourced human resources team, together with templates, handbooks, and other materials for managing your workforce. It's a good half-step between DIY and having an in-house human resources team. There's also a dedicated support line.
QuickBooks Elite gives you access to HR experts who will create custom handbooks and HR policies for your business, as well as dedicated support.
Both products are good, but we feel QuickBooks is more focused on payroll until you get to the Elite package, while right from the start, Gusto offers you more in the way of HR. That's why we think Gusto is the winner in this category.
Winner: Gusto
2. Pricing
Both Gusto and QuickBooks Payroll have three levels of pricing offering rising levels of functionality. The first gives you basic payroll ability and a little more. At this level, Gusto offers more HR support and is generally a better featured package. The second level gives expanded HR support and more detailed time management / time tracking, while the third level introduces what we'd describe as outsourced HR support.
Both QuickBooks Payroll and Gusto have a pricing structure that consists of a base monthly subscription plus a per employee charge.
Gusto
| | | | |
| --- | --- | --- | --- |
| Plan | Base price per month | Per employee per month | Step up in functionality |
| Core | 39 | 6 | |
| Complete | 39 | 12 | Includes permissions, onboarding, time management, organization charting and directory functions |
| Concierge | 149 | 12 | |
Gusto offers a one month free trial. A discount is available on the first six months' subscription. You're not tied down to a long-term contract, and Gusto will cover employees in multiple states for free, where QuickBooks makes an extra charge for additional states.
QuickBooks
| | | | |
| --- | --- | --- | --- |
| Plan | Base price per month | Per employee per month | Functionality |
| Core | 45 | 4 | |
| Premium | 75 | 8 | Adds permissions, same-day deposit, new hire reporting, HR support, TSheets mobile app |
| Elite | 125 | 10 | $25,000 tax penalty protection*; time and project tracking; personal HR advisor |
*If you receive a tax penalty, Elite pays out up to $25,000 and the QuickBooks tax resolution team will step in to help you handle the situation.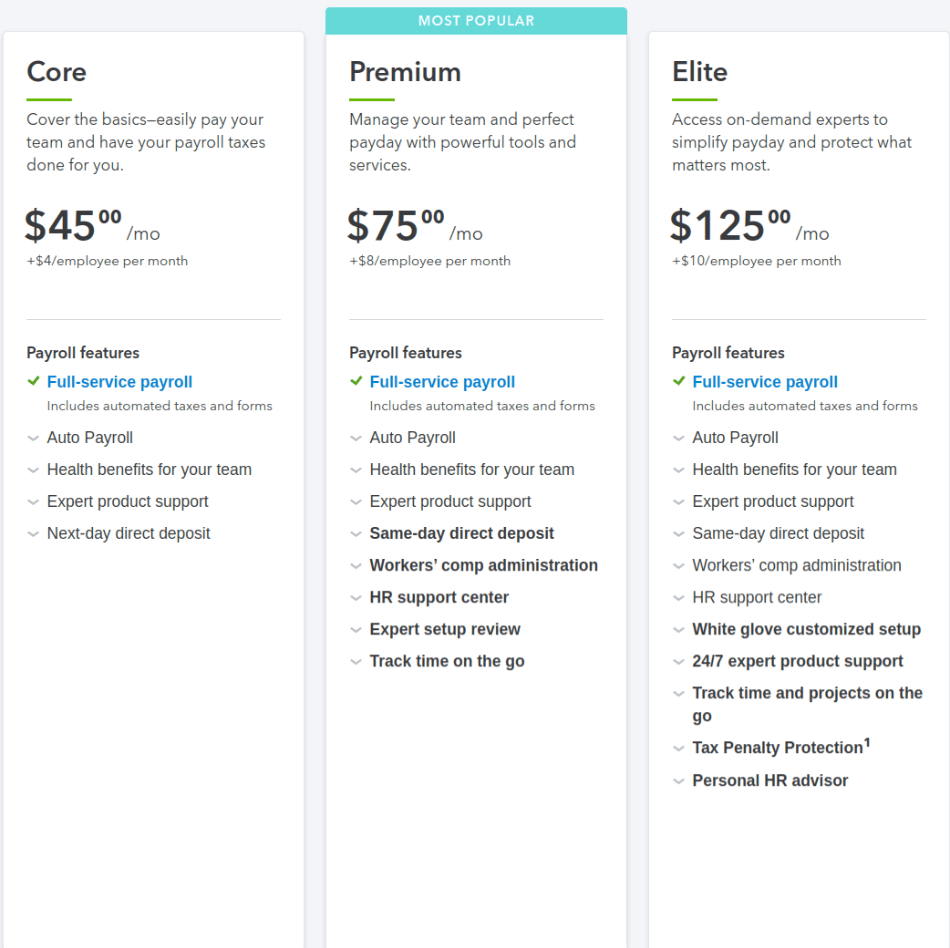 As with Gusto, you're not tied down to a long term contract. You can choose between a 30-day free trial or a discount on your first 3 months.
Gusto has a lower base price, but makes up for it with a higher per-employee charge. For a small business, Gusto Core will come in cheaper up to three employees – above that level, all other things being equal, QuickBooks would be cheaper. We think Gusto is great for the true small enterprise. Gusto Complete gives you nine employees before it's priced at the same level as QuickBooks Premium.
On the other hand Concierge level is more expensive than the Elite level of QuickBooks. And if you have a larger number of employees, QuickBooks will be cheaper – for instance with 20 employees, QuickBooks would cost you $125 against $159 for Gusto at the lowest level, all other things being equal.
But this isn't the whole story. QuickBooks charges extra for quite a few features, for instance multi-state filing (in Core and Premium plans), health benefits, and workers comp. However, administration for 401(k) plans is handled free.
Gusto, on the other hand, has extra charges for 401(k) and 529 college savings plans, but provides free administration for workers comp and healthcare insurance. So depending on the benefits you offer, you may end up with a different result. Gusto has a number of partners who offer insurance and investment schemes and integrate directly to its application, making your life easy.
We've found Gusto's pricing looks more transparent. For some features QuickBooks merely notes that an additional fee 'may' be payable.
Extra monthly payments for specific functionalities
| | | |
| --- | --- | --- |
| Functionalities | Gusto | QuickBooks |
| 401(k) | $39 + $8 / employee: no set-up fee | free |
| 529 college savings | $6 per participant (minimum $18) | |
| Commuter benefits | $4 per participant (minimum $20) | |
| Flexible spending accounts | $4 per participant (minimum $20) | |
| Workers comp | free | Additional fee (unspecified) |
| Health insurance | free | Additional fee (unspecified) |
| Health savings account | $2.50 per participant, no minimum | Additional fee (unspecified) |
| Direct deposit payments to contractors | Free | $4/8/10 per contractor (Core/Premium/Elite) |
| Multiple state filings | Free | $12 per extra state |
| 1099 e-filing | Free | $14.99 for first three forms, then $3.99 each: free if more than 20 |
There's no winner in this section. You'll have to look in detail at what you need from your software, and calculate how the pricing plays for your set-up.
Winner: Tie
3. Ease of Use
With both these applications, high levels of automation mean once you've set the system up, it's a matter of just a few clicks to run your regular payroll.
Gusto has a simple and very user-friendly interface which is intuitive and easy to learn your way around. The application opens with a dashboard which has reminders for pending tasks.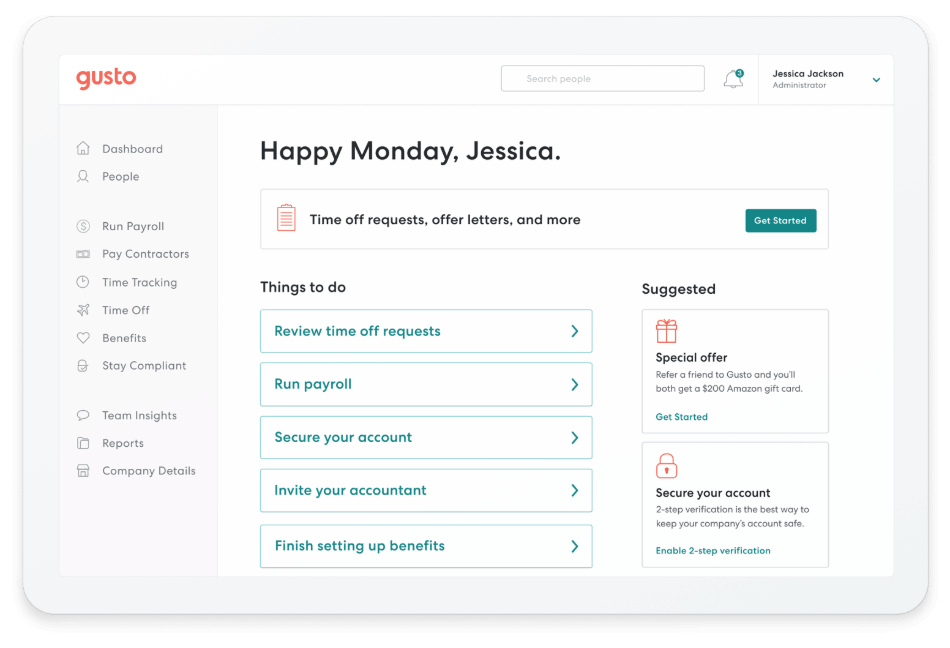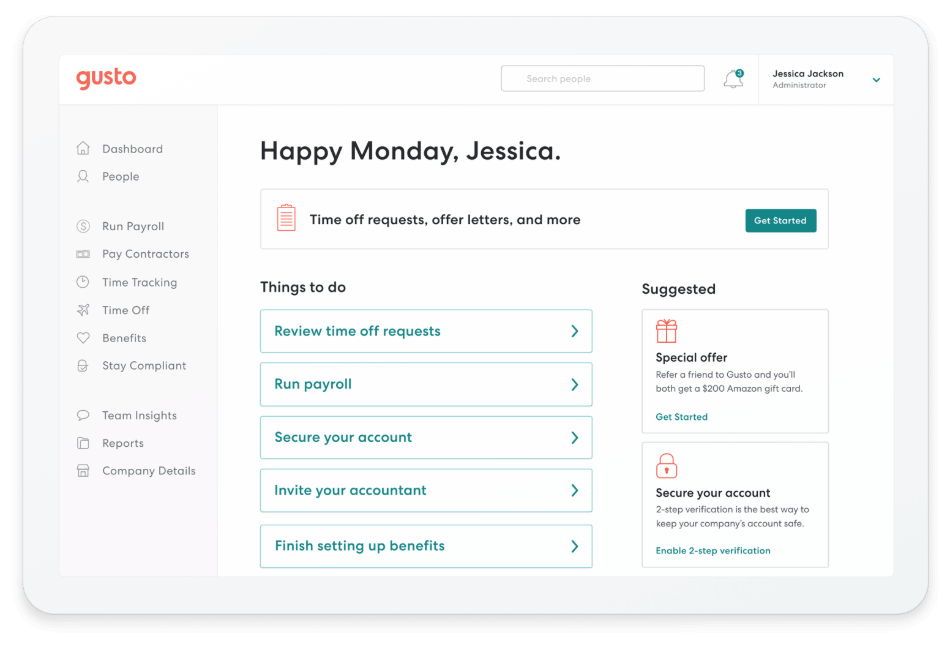 Small business owners who don't have HR or accountancy experience really like Gusto for its ease of use. Gusto claims that 85% of its customers who have changed from another payroll system find Gusto easier to use than their last provider.
Gusto also makes it easy for employees to self-serve, even during the onboarding process. They can fill in their own bank account details, contact and W-4 information (in the two higher priced plans) and make time-off requests.
QuickBooks also has a simple, clean interface. Navigation is intuitive, and we found the package more user-friendly than its sibling accounting package. Even if you're not using the AutoPayroll function, it takes just three steps to run a typical payroll. That's impressively streamlined.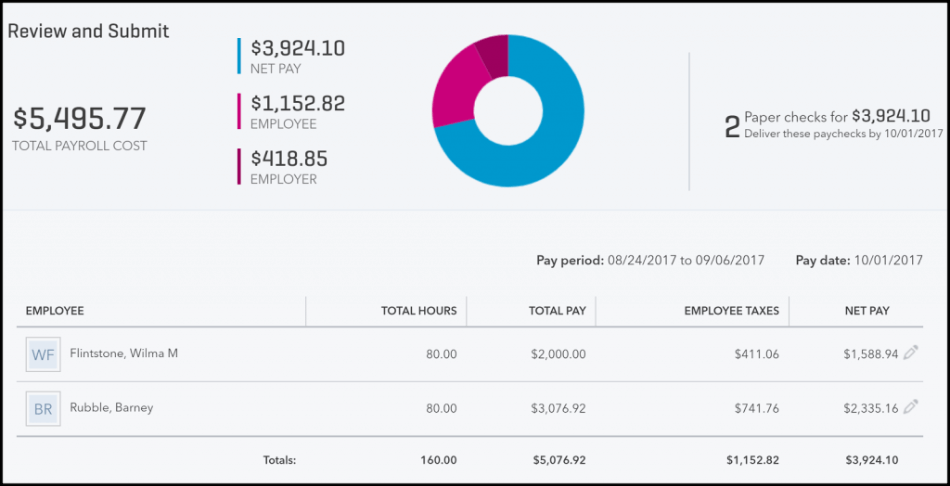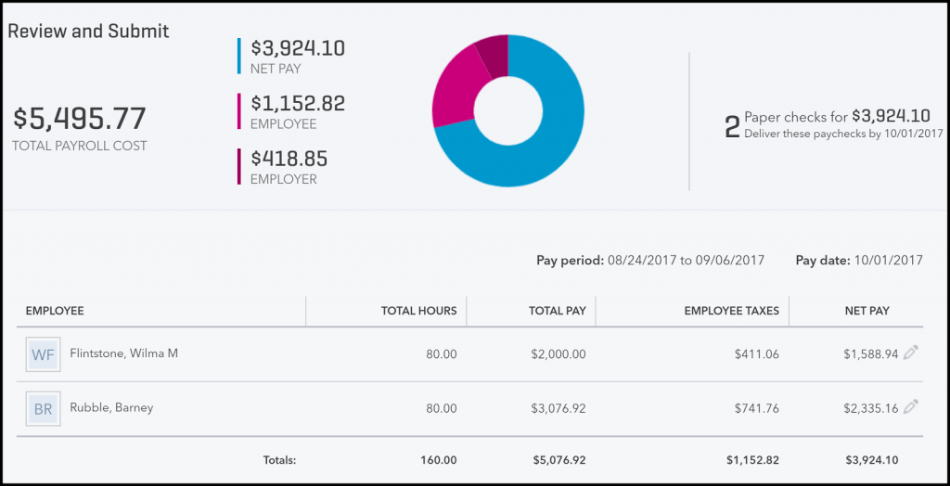 Both companies have automatic payroll functionality so if nothing's changed, you can just press the button and pay. Gusto's Autopilot works for employees, but not contractors – you'll have to get involved manually if you use contractors. QuickBooks's AutoPayroll is similar, but only works if all your employees are in a single state.
Another thing both companies have in common? A few complaints about bandwidth. Gusto can glitch when you're uploading data, and QuickBooks isn't the fastest web app around.
Winner: Gusto
4. Mobile apps
QuickBooks wins this one by a walkover, because Gusto doesn't have a mobile app.
However, if you can run a web browser on your smartphone you could access Gusto that way. To be honest, a smartphone screen is a bit small for the amount of information displayed. If you have a tablet, though, you're doing fine.
QuickBooks has dedicated mobile apps available for both Android and iOS which will let you run your payroll and pay the relevant taxes. It does have limits; you won't be able to edit employee information, or change pay rates, using the app,. But if you are delayed on a flight and don't have secure web access, and you need to get employee payments rolling, you're fine.
Winner: QuickBooks
5. Integrations
Gusto offers a good choice of integrations with accounting software such as QuickBooks, Xero, and FreshBooks. Its QuickBooks integration is, reputedly, flawless. It also offers integration with other third party tools such as time tracking software.
Gusto also offers a slightly different form of integration with its network of benefits providers. For instance, it integrates with Guideline as a 401(k) provider, which is great if you're a startup that needs to offer a competitive benefits package. 529 college savings and health insurance are also available through partnerships.
QuickBooks integrates seamlessly with QuickBooks Online, but not with other account software. And you'll need the QuickBooks Online subscription if you want to access any other integrations.
This makes QuickBooks Payroll very difficult to use if you don't have QuickBooks Online; you would need to input your data manually to your accounts system, or use an Excel workaround, which is time-consuming and prone to error.
On the other hand QuickBooks Payroll does integrate very well with other Intuit products such as TSheets and 1099 service. All in all, if you're prepared to run with Intuit products, you've got a good package – if not, Gusto offers you more integrations.
Winner: Gusto
6. Customer Support
Both Gusto and QuickBooks offer phone, chat and email support during business hours (6-5 with Gusto, 6-6 with QuickBooks). Both have good online resources, with a searchable knowledge base and lots of tutorials available showing you how to carry out basic functions. With both companies, if you subscribe to the top price package you'll get a premium support service.
But while on paper the two companies look the same, user reviews show a difference. QuickBooks reviews are inconsistent; some users love their support, others have clearly been frustrated by not having their problems solved. On the other hand user reviews of Gusto are enthusiastic, with some reporting "great hand-holding" and other users saying staff were "beyond helpful".
Winner: Gusto
7. Setup
Both these payroll applications are web apps delivered via the cloud, so there's no installation required. However, payroll is a tricky function to set up. Both Gusto and QuickBooks help you by structuring the process as a series of questions about your business, and then about your employees.
Gusto staff will help with initial setup, if you have 10 employees or more, whether you're transferring from another payroll system or getting set up for the first time.
Gusto has one advantage here because it actually asks you whether you want an employee to do their own onboarding – saving you time! But both packages are equally easy to set up.
Winner: Tie
8. Reports
Gusto had numerous reports including a payroll journal telling you what your relevant financial accounts look like, YTD employee earnings, a contractors report, an employee summary, and a time-off report showing balances available to your employees. It will also deliver reports on the status of time-off requests, and reports for specific benefits such as 401(k) plans. Reports can be customized at different levels of detail.
QuickBooks has a great summary report which includes vacation and sick time as well as salaries, taxes and tax adjustments. You can then look in more detail at whichever part of the summary you'd like to investigate further. You can also produce a report on any individual employee.
Both are good. But we think Gusto just offers a little more refinement and more choices.
Winner: Gusto
Final Thoughts
Whichever of these two payroll applications you choose, you're in good hands. Both are well known, well regarded, and well supported by professionals – and lots of people know how to choose them, which is good news if you're looking for someone to take care of your system.
We think that for most small to medium size businesses Gusto is the better all-in-one solution, as it gives you good HR support as well as just payroll. It's not necessarily going to be the cheapest solution in money terms, but we think it will deliver more value if you don't have an in-house HR team.
The other big advantage of Gusto is that it gives you a choice of accounting software integration. If you don't like QuickBooks Online – and some people don't – you can choose another application for your accounts and still enjoy the benefit of seamless integration with Gusto payroll.
But if you already have QuickBooks Online, QuickBooks Payroll works well with it, and Intuit offers other integrations that may be worth your while, such as TSheets.